The Maplewoodshop Program is
Empowering, Engaging & Easy
A safe summer is a fun summer. These resources from the American Camp Association include tip sheets, charts, standards-at-a-glance, and other resources for standards and safety.
Looking for the safety standards for hand tool woodworking? Well, we wrote the book on that! We are very proud to announce that we partnered with the ACA to create Safety Standards For All Woodworking Programs (It is under Staff Training -> Qualifications -> Supervision Standards Resources -> Staff Skills ->Verification Hand Tools Woodworking). This document is the standard for all woodworking programs accredited by the ACA. Many thanks to Danielle and Rhonda at the ACA for your help and guidance!
These resources require member login.
Staff concerns?
We'll turn any good counselor into a great woodshop teacher.
Maplewoodshop training is sustainable; if staff leaves, the woodshop knowledge stays.
Watch here for a sample of our easy-to-follow training. No experience required!
Mike Schloff, entrepreneur and founder of Maplewoodshop, answers the question "How can hand-tool woodworking teach kids more than any other program you offer?" Seriously. EOT Co-Founder, Dr. Chris Thurber, will join Mike to uncover the reasons why kit-based arts-and-crafts programs breed behavior problems, but hand-tool woodworking engages, empowers, and enlightens youth and staff alike. Learn how to offer a full woodworking program at your camp, school, or parks and rec using only hand tools and existing staff!
Give your campers the life-long skill of woodworking!
Camp is a place for kids to explore new experiences and have FUN! Woodworking does that AND teaches confidence, problem-solving, and more. Your campers will grow as they explore woodworking and its many benefits.
The Maplewoodshop Program Includes:
No more kits! We train your staff to take your campers from plank to project. Grow counselor confidence and skill set!
Lesson Plans and Programming Advice
Laddered lessons that grow with the campers' skill set. We give you specialized lesson plans based on your camp's activity period and the goals you set for your campers. All lesson plans are aligned with national standards and appropriate for all types of learners.
Proud Partner of Expert Online Training
We offer over 30+ videos on safety, training, and projects. Train your staff remotely any time of the year!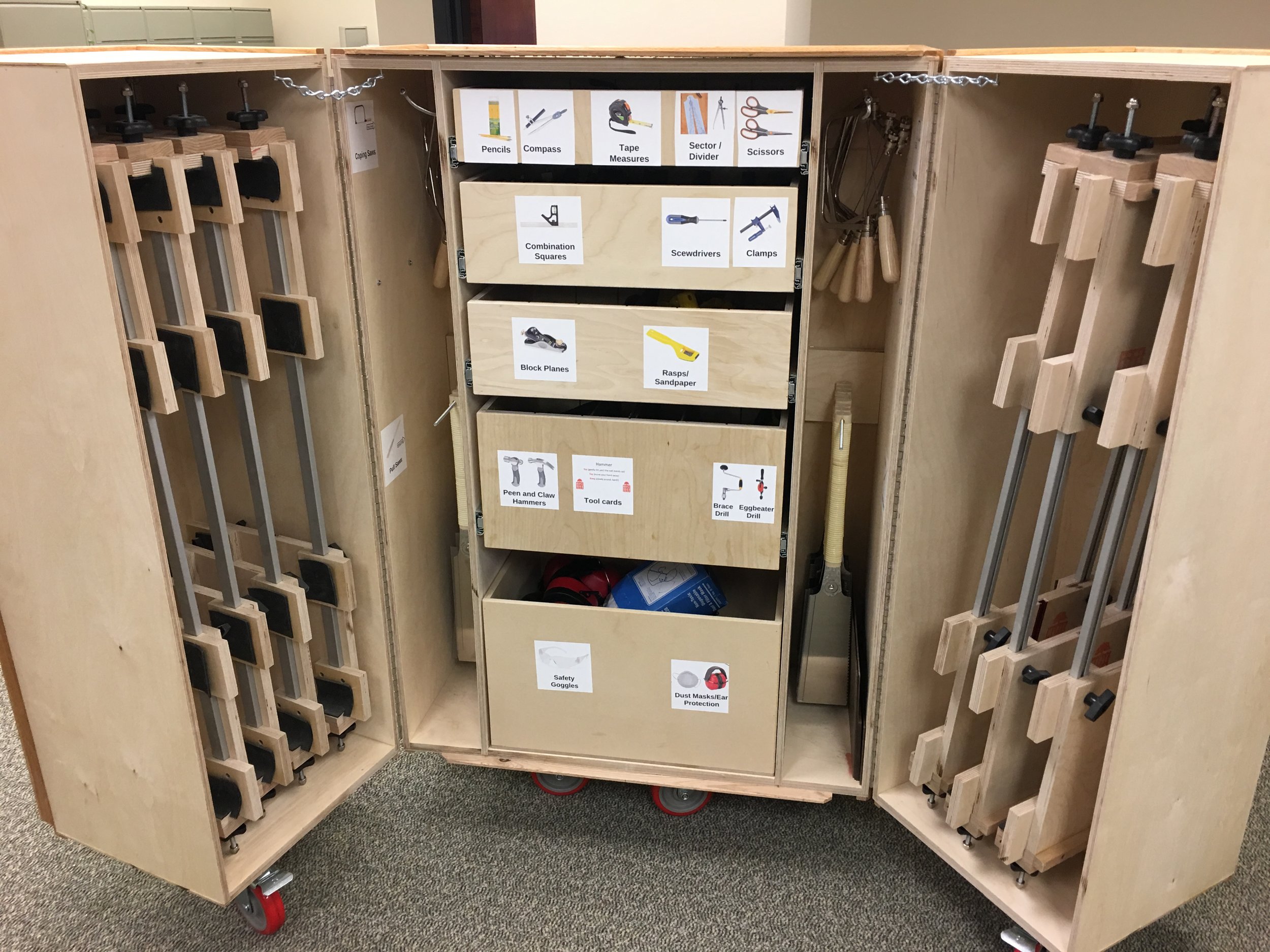 The Tool Chest with Hand Tools and Table Top Work Stations
Transform your room into a woodshop. Our custom, portable, lockable tool chest has everything you need to easily and successfully implement woodworking into your camp today!
Benefits for Campers
Ability to Create Memories

Build Camper Confidence

Learn Problem Solving

Practice Teamwork

Pride & Patience

Control of their Environment

Creativity & Grit

Learn Basic Hand Tool Woodworking
Benefits for staff and Directors
Easy to Administer and Execute

Builds Camp's Capacity and Offerings

Safe, Portable, Lockable, Hand Tools

Confidence

Use your Current Space

Professional Development

NO KITS! Many Fun Projects and Crafts

Online EOT Trainings